Autumn 1995 (3.3)
Pages 24, 71

Dancing and Drumming Again!
Azerbaijani Children at the1995
Aberdeen International Youth Festival

by Susan Glendenning
Photos: Courtesy BP & Statoil Alliance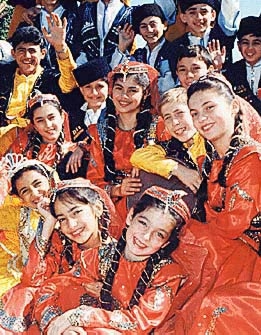 A group of 37 dancers and musicians from Azerbaijan traveled to Aberdeen to take part in the 23rd Aberdeen International Youth Festival (August 2-12). The event gave young performers from all over the world a chance to spend time with each other, learn about the similarities of their cultures, and form friendships. More than 800 participants from 14 countries took part. Besides Azerbaijan, they came from Belarus, England, Czechoslovakia, Finland, Hungary, Ireland, Netherlands, Norway, Russia, Scotland, Ukraine, and Zimbabwe.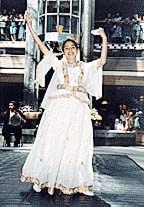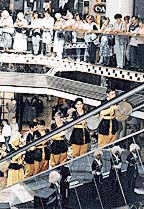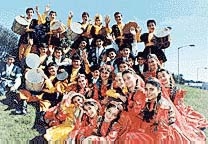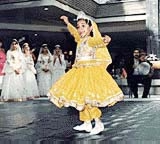 Dance Ensemble which represented Azerbaijan this year at the Aberdeen International Youth Festival (August 1995).
Azerbaijan was represented in 1993 as well.

The performers from Azerbaijan came from three groups: the Children's Philharmonia "Farakh" Dance Group, "Jujularim" Children's Palace Drummers, and the National Ballet School. The groups performed their usual routines throughout the two-week festival. However, on August 5th, they were featured as an ensemble and presented the world premiere of their new work which had been conceived by David Rixon, the Festival Producer, and coordinated by Rimma Mamedova. The esteemed Azeri composer and President of the Composers' Union, Tofig Guliyev, (see AI, Spring 1995) accompanied the group to Aberdeen as its leader.

The Festival provided a great chance for Azerbaijan's youngest troupe member, seven-year old, Lala Samedova. Lala is a refugee child. Her village was captured by the Armenians in 1992 and she has been living in the industrial city of Sumgayit, 50 km. from Baku ever since. Conditions there are crowded, sometimes ten people share a single room. Lala's gift for dance was discovered 18 months ago when talent scouts went out to the refugee hostels. They signed her up with the Government sponsored Children's Philharmonia which trains and encourages children in the Arts. "We're afraid that we're losing our talented children because of this war," said Farah Shekimskaya, Head of the Philharmonia, who accompanied the group. Lala gave five solo performances in the program.


Photo: BP's Michael Townshend with Azerbaijan's Ambassador to London, M. M. Guliyev at reception after the Azerbaijani Youth performed.

This is the second time that Azerbaijan has been represented in this world famous Festival. They went in 1993 as well. (See AI, Sept. 1993). On both occasions, BP and Statoil Alliance undertook their sponsorship.

At the concert reception, Michael Townshend, BP's Government and Public Affairs Manager, praised the children, "These last two weeks have demanded over 30 performances. Everywhere they went, their dedication, skill and positive attitudes were a great credit to their country. Through Azerbaijan's rich and talented culture, they have sparked everyone's imagination. We're proud to have been involved with such an event."

From Azerbaijan International (3.3) Autumn 1995.
© Azerbaijan International 1995. All rights reserved.
Back to Index AI 3.3 (Autumn 1995)
AI Home Page | Magazine Choice | Topics | Store | Contact us