Summer 1995 (3.2)
Pages 6-7
Baku Diary
The Greatest Resource - Friends
by Susan Cornnell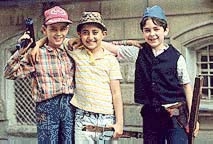 Left: Good friends - starting at an early age. Baku, 1994. Photo: Oleg Litvin.
Need a job? Need a facial? Then if you're in Azerbaijan, what you really need is a good friend. We speak of the "old boy" network in the West, but "who you know" is virtually the way everything works in Baku. The normal channels of doing business that we take so much for granted such as advertising, yellow pages, trade journals and referral services are not widely available here.

How do you get things done? We needed to get our VCR fixed. Check the business directory? Look for a newspaper listing? Oh no! My roommate Sadaket called her cousin who vaguely described the location of a certain expert repairman "somewhere near the radio station." Sadakat then called our friend, Fuad, who drove her around the area to various doorways and shops near the radio tower. At last, Sasha was found and the VCR was left in his capable hands. It turned out that one of the parts was broken and wasn't available in Azerbaijan; but no problem, his friend, Vagy, would soon be going to Dubai and he could pick it up . . . and so it goes.

A British friend living in another city of the former Soviet Union once told me how he had needed to get his phone repaired. In the end he literally drove around town in a mini-van from one friend's home to another, picking up six men, each one a link in the chain in finding the actual person who could fix the phone.
More Dependent in Baku
I find myself more dependent here than I've ever been in my entire life. I simply need people to help me get things done because the channels I'm used to don't exist. When I want a facial, I call Fatima. When I need the best dry cleaner in town, Oya's driver knows. Sometimes I, too, get caught up in this web of supply and demand, seek and find. Rena's friend Oleg has a daughter who is working at a new company and her boss needs to polish his English. Rena knows me; I teach her daughter English. How can I refuse?

Even the way we give each other directions is more by way of referral to people, than to the street names most of which have been changed in Baku since independence. For us foreigners it's easier to say, "Remember the store near Judy's house where we bought that good mayonnaise from Iran? Well, go past that shop to the guy on the corner who has the good raisins that Mikael used to buy . "

Yes, people are very resourceful in Azerbaijan. They have to be because there are precious few resources yet available. But after all, in a country where goods and services are just becoming a reality, people have been making arrangements like these for years. Salvaging, renovating, "cutting and pasting", recycling-it's everyday life. I was wandering through the sun-spackled streets of "Icheri Shahar" (old Inner City) and came upon a white-washed fence, every board of it a different size, shape and texture. A lot of scrounging went into erecting that structure.

I belong to the International Women's Club of Baku. The membership, by design, is 50% local and 50% foreign gals. We ex-pats had decided to share with our Azeri friends how Easter is celebrated, as neither the secular nor the religious aspects are known here. Assembling an Easter basket was not a simple stop to a local K-Mart. There are none here. And so, it turned out that Ann cut strips of green paper to make grass for the baskets. Jean brought Easter eggs. Joy had bought foil-wrapped chocolate eggs on a recent trip to Dubai. I contributed a chocolate snowman which I had found in a shop at Christmas time. (It was the closest thing I could find to a bunny.) And Tiffany had given me an Egg Coloring Kit last year which I, of course, had hoarded for ten months for this very moment.
Spirit of Community Created
This reliance on others to get even the simplest of tasks done promotes a community spirit, a feeling of sharing and "pitching in" not so often experienced in my very independent American life-style. Back home I was so self-sufficient. I could move to any city, drive around a bit and know how and where to get everything done. I always had plenty of everything I needed and if I ever ran out, I just drove to the grocery store. If I needed a special service, I used the yellow pages.

Life in Baku even after three years of living here is still constantly changing and unpredictable. The "grapevine" is my lifeline. Without friends and "friends of friends", I could hardly survive. Needless to say, it also produces a list of implicit IOU's. I have a drawer full of presents ready for wrapping as even a little token goes a long way. More importantly, though, this dependent system builds relationships.

I wanted bread. It was late at night. All the vendors had gone home. We stopped by a small bakery tucked into a cluster of tumbled down cottages. "Chorak var?" (Do you have bread?), we asked. "Yokh-dur" (No) came the reply. "Not even a single loaf?" we implored. "Not even one." But then they told us that the owner lived next door, we could ask him. So we knocked on a crooked little door and a crooked little woman came out and explained that her hubby was at a neighbor's. We went. And there we got not only the bread, but a cup of tea and made new acquaintances and friends.
Second Home
I've lived in the same flat with the same neighbors for three years. Occasionally, I've borrowed an egg or some extra chairs when guests came over. But essentially I've only spent a few minutes chatting politely with the women who live downstairs. Tonight I came home exhausted only to discover that I didn't have my keys. My roommate wasn't home and besides that, the electricity was out for blocks. I groped my way through the dark, down to Saida's flat. "May I use your phone?" Immediately, an oil lamp was lit, the tea water heated to boil and then the pots and pans started flying. I insisted that all I needed was to sit by the phone and do some paperwork by lamplight. But the Azeri will is stronger than a tired American's. So Saida was soon elbowing me into the kitchen for a two-course dinner. By flickering light, we two women finally got to know each other because her character and culture said, "Here's a woman in a jam and I'll do everything to make her comfortable."

I told her about a story that was written in one of the recent issues of Azerbaijan International (Spring 1994) by an Azerbaijani man now living in the US. He mentioned how he had locked himself out of his apartment and suddenly realized that it might not be such a good idea to knock on his unknown neighbor's door at 1:00 A.M. in the morning. But he had gone on to explain in the article that in Azerbaijan under the same circumstances, he could have knocked on his neighbors' door and that even strangers would be welcomed in.

Tonight, as I savored the home-made apricot jam, I felt that generosity. Just downstairs from my own apartment, I had discovered a second home. I'd have to admit now that Baku, itself, has truly become my second home-a culture that I've adopted and yet am still trying to adapt to. It's the inconveniences of daily life that bring wonderful opportunities to experience the hospitality and helpfulness of the people of Azerbaijan-a people who by giving so much to me are, in turn, teaching me how to give.


Susan Cornnell's "Baku Diary" appears as a regular column in Azerbaijan International.

From Azerbaijan International (3.2) Summer Issue.
© Azerbaijan International 1995. All rights reserved.

Back to Index AI 3.2 (Summer 1995)
AI Home Page | Magazine Choice | Topics | Store | Contact us