Summer 1995 (3.2)
Page 40

Will Azerbaijan Really Benefit from the Consortium Contract?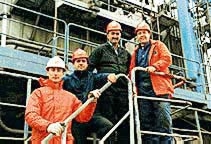 Azeris and foreigners already working together on oil projects (1995).

Some people are under the impression that the foreign oil companies are taking advantage of Azerbaijan and very little profit and benefit will go to the Azerbaijanis themselves. Especially, they're concerned since SOCAR (State Oil Company of Azerbaijan) recently sold 10% of its share to Exxon and Turkish Petroleum.

According to Terry Adams, President of AIOC (Azerbaijan International Operating Company), this Contract is very beneficial for Azerbaijan. "The government has successfully negotiated a contract which favors the country, while complying with international standards for such negotiations. Any criticism to the contrary is ill-founded." Here are the major reasons why:
Profit: Azerbaijan will gain an estimated $78 billion profit while the foreign consortium companies get $22 billion dollars. All development funds will be provided by the foreign investors.

Consortium Share: Even from the $22 billion dollar consortium share, SOCAR owns 10% profit share as an investor. In the final analysis, nearly 80% of the entire profit from this project will go to Azerbaijan.

New Discoveries: If reserves of oil and associated gas prove to be larger than estimated (510 million tons of oil and 55 billion cubic meters of associated gas), Azerbaijan will receive approximately 88% of the additional oil (including the value of taxes on additional foreign oil company profit) and 100% of all associated gas.
Additional Purchase Rights: For the entire life of the field, SOCAR has the right to purchase up to an additional 20% of the foreign oil companies' share of the oil.
Interruption Clause: The contract protects Azerbaijan's national interests in the event that exports of oil are interrupted. Production would be allowed to continue to satisfy Azerbaijan's domestic requirements.
Bonus: The contract terms include a total of $400 million in bonus payments to the Azerbaijan Government, of which half has already been paid following ratification of the agreement in December 1994, and the remainder will be paid in stages.
Local Subcontractors and Services: A large proportion of the investment in developing the fields will be spent in Azerbaijan via money paid to Azerbaijani companies and organizations for Azerbaijani goods and services. An estimated 30-60% of the investment will be spent in Azerbaijan, i.e., $2-$5 billion in today's money. For example, contracts have already been signed for the use of support vessels from SOCAR and the State Committee of Hydrometerology, and for the use of AZAL helicopter services. AIOC has commissioned SOCAR to install a helideck on the Chirag One platform.
Offshore Supply Base: The AIOC will also need a new offshore supply base, a camp in Baku for accommodating sub-contractor employees, and office space and housing for its own employees. All this will utilize local infrastructure and generate employment in the local community.
Employment: As a company, AIOC is committed to employing a growing number of Azerbaijani professional and support staff. Preference will be given to employing Azerbaijanis with the necessary knowledge, qualifications and experience. Within five years of the start of full field development, 90% of all professionals and 95% of all support staff employed will be Azerbaijani. Training obligations are part of the contract.
Western Exposure: Foreign oil companies and contractors, such as Brown & Root, which are carrying out some of the early evaluation work are taking SOCAR personnel into their offices and also to the US, UK and Norway to demonstrate western technology and to share experiences and insights from both Azerbaijani and western systems.

Infrastructure: The large investment and associated activity is already indirectly impacting the community, such as the investment in new hotels, refurbishment of old hotels, opening of new restaurants, establishment of new airline connections between Baku and Europe. These activities will generate more local employment, more disposable income within Azerbaijan, and more taxes for Azerbaijan.
Environmental Protection and Safety: The contract ensures that the fields will be developed by international standards, safeguarding the natural environment of the Caspian as well as the health and safety of all employees of AIOC and its sub-contractors.
Humanitarian and Cultural Projects: The foreign oil companies have voluntarily donated $5 million to President Aliyev's Hospital Fund and more than $50 million to a Government Social Fund. Already several of the consortium members have been substantially involved with refugee projects, and cultural, educational, and musical exchanges.
From Azerbaijan International (3.2) Summer 1995.
© Azerbaijan International 1995. All rights reserved.
Back to Index AI 3.2 (Summer 1995)
AI Home Page | Magazine Choice | Topics | Store | Contact us