Summer 1995 (3.2)
Pages 33-38

Historical Beginnings
The AIOC-Azerbaijan International Operating Company

Terry Adams, President of AIOC

The eleven companies that comprise the Western Oil Consortium are now functioning under the umbrella of the newly formed company known as AIOC-Azerbaijan International Operating Company. AIOC's President, Terry Adams of British Petroleum who currently leads the Consortium shared his views about the design and goals of the company with Azerbaijan International's Publisher, Pirouz Khanlou.

What was the rationale behind creating a consortium of international oil companies in this major contract with Azerbaijan?
For optimum field development, it makes common sense and good oil field practice to bring the three fields-Azeri, Chirag and the deep water portion of the Guneshli-under one unified plan. The fields are geologically contiguous with each other. Secondly, a consortium of companies eliminates the very tedious and very complex process of each individual company or small group of companies attempting to negotiate for a separate field sector.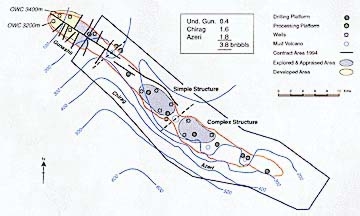 The Azeri, Chirag and Gunashli Fields in the Caspian that are being developed by AIOC.


To negotiate with one group is clearly far easier than negotiating with three. To sign such a contract with such an array of foreign oil companies was a new experience for any country in the former Soviet Union. I might add that the Western Oil Consortium contract with Azerbaijan is the first truly major international oil contract to have been signed in the FSU (former Soviet Union) which is proving successful. So all in all, a state-led consortium such as the one organized with SOCAR (State Oil Company of Azerbaijan) brings tremendous strengths with very few disadvantages for the country.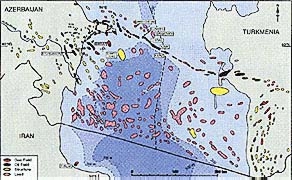 The oil fields of the Caspian (in the Azerbaijan and Turkmenistan sector).

Although there were originally only eight Consortium members-Amoco, BP, Statoil, Pennzoil, McDermott, Ramco, Turkish Petroleum, and Unocal-back in June 1993 when SOCAR announced the consolidation of the field negotiations, the Consortium has grown to 11 foreign companies now that LUKoil, Delta-Nimir, and Exxon have joined. The political strength of such a large and diverse consortium is self-evident. Six foreign countries are now represented: US, UK, Norway, Turkey, Russia and Saudi Arabia. The political ties that these companies bring with them will clearly enhance the commercial benefit to Azerbaijan.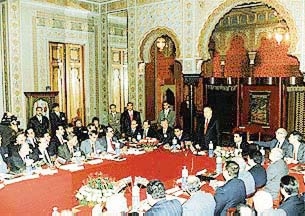 The first joint meeting of AIOC, January 24, 1995, in the Taghiyev Museum. The inital 1995 budget for $108 million was passed. President of Azerbaiajan, Heydar aliyev, addresses the meeting. SOCAR's President, Natigu Aliyev, sits next to him on right.
How is the AIOC organized?
SOCAR and the foreign oil companies have established a joint operating company to conduct the day-to-day operation of the fields. Under the agreement, a Steering Committee has been established to oversee the operations of AIOC. It contains equal representation from SOCAR / Azerbaijan Government and the foreign oil companies, and is chaired by the President of SOCAR. Essentially, 50% of the representation of the Steering Committee is with the foreign oil companies and 50% is with the government of Azerbaijan and SOCAR. All decisions must be unanimous.

The AIOC serves as the operating arm of the foreign oil companies and is itself subordinate to the Contractor Management Committee, essentially the operating company board, which agrees on all proposals that will be subsequently present to the governing Steering Committee.

AIOC functions as a "no profit / no loss" company. We are here to develop a project on behalf of the foreign investors and, as such, there are neither assets nor profits and, as a consequence, no liabilities. Basically, AIOC provides long-term planning as well as operational support on a day-to-day basis; in other words, its task is to get the job done.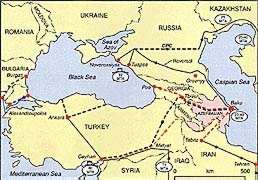 Left: Possible Export Pipeline Roots to get the Oil Out of Azerbaijan.
Right: Chirag I Platform.
What kind of personal experience do you bring to this job as its first President?
I've been involved with several consortiums over the past 30 years. Most recently I was General Manager of the Onshore Operating Company in Abu Dhabi, a six-member Consortium made up of BP, Shell, Exxon, Mobil, Total Partex and ADNOC, the State Oil Company. This company was involved in producing more than one million barrels of oil a day. The company had approximately 1700 employees; but only 40 were Westerners. In many ways it has served as a working model for AIOC in Baku, as it was a "no profit / no loss" operating company in which the Abu Dhabi government had a 60% share, but the decision making was unanimous.
What kind of job opportunities will there be for Azerbaijanis in AIOC?
We visualize that during the first year of operation, our staff of about 150 people will include approximately 50 foreigners and 100 Azerbaijanis. Our contractors will also be employing a substantial number of national staff. Azerbaijan has a long history of oil production-more than a hundred years. And we have discovered that the scientific educational levels in Baku among members of the local community are more than comparable to that found overseas. This will enable AIOC to develop very, very quickly into an Azerbaijani-dominated company which employs a majority of nationals.

It will be interesting to observe how AIOC evolves. There's going to be a very rapid period of change. Baku with its long tradition of oil industry has its own work paradigm-its own way of running an oil industry. We, on the other hand as Westerners, bring a different work paradigm to Baku; consequently, the success of the forthcoming operations in Azerbaijan will depend primarily on how well these paradigms merge together to create a third and different model.
Though you've only been operating a few months now, it's seems you're already quite busy.
Actually, the speed with which AIOC is developing is quite amazing. Already SOCAR and AIOC are working closely in tandem. It's interesting to see how the two management teams are not only working closely with each other professionally, but are becoming good friends, socially, as well. The interplay between both groups is extremely positive, and we're looking forward to a good future.
People often compare Azerbaijan to the North Sea or Kuwait. What is the real potential of this region?
With the collapse of the former Soviet Union, areas including the Pan-Caspian which were previously politically and commercially inaccessible to the Western Oil Industry are now opening up to foreign investment. The Pan-Caspian, in particular, has gathered a high degree of attention as we are just beginning to comprehend its true resource potential.

The geology of the Pan-Caspian is well known, and the untested reserve potential is considered substantial. The proven reserves of Azerbaijan and Turkmenistan in the South Caspian are estimated at 17.5 billion barrels of oil which, coincidentally, is the exact equivalent of the proven reserves of the entire North Sea.

One can see from the known untested prospects and undrilled structures offshore that this estimate could, at least, double. The potential is very, very substantial. In the South Caspian sector of Azerbaijan and Turkmenistan alone, we are looking at an untested North Sea. Add to that the Iranian sector of the South Caspian and Kazakhstan and one can visualize within the next decade that this region is going to become a major oil province of global importance. At that time oil production and reserves will begin to decline in other major basins such as the North Sea and Alaska. World oil demand will grow as well. In the future decade of the next century, the Caspian will inevitably become like another Kuwait or, maybe, even more.
But, is it really possible to "unlock" the oil and connect with the international market?
The unlocking of the Caspian is entirely dependent on the pipeline issue. Without a regional pipeline to the West, these resources will not develop quickly. But if an early pipeline can link to the West, the investment and pace of development will accelerate.

Some say oil is a blessing to Azerbaijan, others say it's a great curse-quite a provocative statement. Historically, the Caucasus has always been an area of political unrest. Other national agendas have interfered within the region-a repeat of the "Great Game" played out during the last century between Russia and Britain. We can only hope that with the creation of a Pan-Caspian pipeline, the self-interests and commercial interests of a number of nations will be equally served and that peace and stability can be achieved in this region. This is the challenge that we're working for today.

Azerbaijan is quite unique in many ways. It's a newly emerging independent democracy, which has, perhaps, in comparison to all the other emerging states of the FSU, the greatest chance for success. It has a relatively small population-about seven million people with a literacy rate of about 99%. In terms of a resource base, it's like utilizing the North Sea to finance a population the size of London. But Azerbaijan has agriculture and other mineral resources to fuel its economy, too. Therefore, the economic opportunity to create a stable and democratic society is extremely positive. One can be optimistic if external influences can be balanced.
What is your criteria for choosing subcontractors for various projects related to AIOC?
It is absolutely fundamental to AIOC that we follow the procedure of open competitive tendering. We're committed to making sure our business process is transparent to the industry at large and that contracts are awarded to reflect the key issues of competitive tendering where competitive price, quality, and the ability to deliver on time are the overruling factors. Under our Production Sharing Agreement (PSA) and, obviously, for good sound commercial reasons, local contractors will be favored on condition that they meet these three criteria that we need.

The economic potential for the Azerbaijan industry is substantial. One looks at other basins and other areas where such oil developments have taken place such as the North Sea. When it started in the late 60s, it did not have the necessary infrastructure. In some respects, Azerbaijan's situation is comparable. It will take about three years to see a substantial change in pace, but experience shows that for every dollar pumped into the economy as a consequence of AIOC direct investment, perhaps another $5 to $10 dollars will enter from the support industries and other businesses.

However, one must proceed with caution. Expectations must be realistic. A strong economy is not going to happen overnight. To build such an infrastructure and to get the program working in an efficient way, a variety of economic factors must be settled. As I said before, even in the most developed areas, it takes two or three years before economic investment begins to accelerate.

Within an international context, the Production Sharing Agreement is a very good contract for the country of Azerbaijan. And don't forget, the Consortium Project is the first of many projects that will follow. It might be described as the fly wheel that will eventually drive the machine of the Pan-Caspian factory. Commercial history has shown that the companies that are first to enter any project are usually the ones that are there for the long term. They are the ones that share the greatest participation in any future development and in any benefits that will arise.
How is the timeline developing for the project?
We have a very carefully constructed developmental operating plan. The minimum obligatory work program must be completed within 30 months at a cost of some $200 million. That includes 3D seismic appraisal drilling plus a whole range of environmental inspection and environmental baseline work. This work has already started and is moving forward rapidly.

Within the first six months from the effective ratifying date (December 12, 1994) we are also looking at the possibility, of evaluating early oil potential, which would kick-in early oil production within 18 months of the start of this project. But this "early oil scheme" depends on the resolution of two critical factors. First, the technical integrity of the existing offshore structure called the Chirag One Platform, which is already in position offshore. At this point in time, we're optimistic that this particular facility can be refurbished to international standards for early development. Secondly, we're looking at the disposal of early oil into regional markets with a planned volume of up to 80,000 barrels a day. Again, the prospects to achieve this seem reasonable.

So by mid-1995, we will be looking to commit to a Phase I of the Project which is an "Early Oil Scheme" which will produce 80,000 barrels a day at an investment cost of some $350 million.
During these first 30 months, we're also looking for a way to resolve the major regional pipeline for the future. It's crucial that we find a satisfactory route which can be supported by all the countries within the region. The route must have a security level that will attract international financing; and along which we can build an oversize line which will take production not only from Azerbaijan or from this early project but from elsewhere in the Pan Caspian and from new investment in Azerbaijan itself. With the resolution of that pipeline route in 30 months, construction could start soon thereafter. Then AIOC will continue with the development of Chirag, Azeri and deep-water Guneshli in two further phases. Initially, AIOC would start production at around 300,000 barrels a day to plateau at some 700,000 barrels. The total projected investment is some $8 billion. In anybody's book, that's a major investment.
Will AIOC be involved in pipeline negotiation?
AIOC has a subunit which has been created in London under a Vice-President of Crude Oil Export. This group of individuals has been commissioned to find a technical, as well as a financial solution to the regional pipeline. Possibly, this project will develop into a new pipeline company in which the current shareholders will participate, or it might be a broader based export pipeline company involving other companies already investing in the Caspian.

This group will be involved directly with SOCAR and the government of Azerbaijan to identify good route options and then to facilitate government to government protocols which then should turn into commitments which will attract the financing of banks, particularly the World Bank and IFC.
Personally speaking, what is the most difficult aspect of your job in AIOC?
Creating AIOC is quite a dramatic experiment. I think this is the first time that I've ever seen an international consortium of such complexity. There are so many different national agendas that must be taken into account and recognized. National self-interests vary so much between each nation. This, in turn, is reflected in the politics of these nations and, consequently, pressures are placed on the foreign oil investors. Russia to the North, Turkey to the West, as well as the US and the UK-all have very different perceptions about the Transcaucasus region. This introduces a tremendous challenge for the management team made up of such a diverse group.

When Alfred Nobel came to the region back in the late 19th century, he commented that in this region "oil, blood and politics were completely intermingled". The situation hasn't changed much 100 years later.
What do you like best about your job?
This is, perhaps, the most exciting project that is currently developing in the international oil business. We're creating history here. We're coming into an established province. We're facing an established Soviet business paradigm, and we're attempting to introduce a Western business paradigm. In the process, we're just about to create a third business paradigm which will take us into, not just the next decade, but into the next millennium.

It has surprised me how, within such a very short time, we've been made so very welcome by the people of Baku. The company has come together quickly and integrated very well as a team. In the true sense of the word, the group is operating as a company . The national staff and the international staff are interacting as one-not just from 9AM to 6PM in the office but also at social gatherings, and it's very noticeable that the staff respects and likes each other. This gives me great pleasure.

The Azerbaijanis are a kind, generous and extremely warm people. They're super people-extremely well-educated and cultured. This is a culture and an educational system which we, in the West understand, and which we share. Besides, where else in the world can you see the Bolshoi Ballet for $1? It costs 50 cents if you want to see a good ballet, and $1 if you want to see a superb one! Also opera, classical music and art are of the same high standard.

On the other hand, it's not easy living here. There are obvious conveniences which one reasonably expects, in terms of one's own living standards. The standard of living is poorer here, but I'd say that the quality of the cultural life and the social life are considerably higher than we expected.
There are also certain risks associated with being here. We've just gone through a period of local instability (coup of March 1995). Azerbaijan is located in an area where there are often political threats. But you learn to see living here as a challenge rather than a down side.

To see the opportunities that are unfolding and to participate in them by bringing Western investment into a society that is eager for change, what greater pleasure can there be? And we're going to see rapid and dramatic change here with accompanying social benefits.

I think I'm extremely lucky to have been made President of AIOC. I've had experience in the past running other consortiums such as this one. If we are successful or, rather, I should say, "when" we are successful, we'll look back with considerable pleasure at having been part of a significant event, one which is very important not only to Azerbaijan but to the international global oil industry. When this company starts moving, it's going to be one of the key building blocks of the next decade.

Perhaps if one believes in fate, my career path has brought me to Baku at this particular point in time to be part of an historical adventure which rarely occurs in any industry.


From Azerbaijan International (3.2) Summer 1995.
© Azerbaijan International 1995. All rights reserved.
Back to Index AI 3.2 (Summer 1995)
AI Home Page | Magazine Choice | Topics | Store | Contact us