Spring 1995 (3.1)
Pages 4-5
Editorial
Crisis in the Arts

by Betty Blair, editor


Nearly three years ago during one of my first days in Baku, I went to the opera and saw Uzeyir Hajibeyov's "Koroglu", a work that had been composed some 70 years earlier. My ticket for the front row cost less than a dime (now about 50 cents). The performance was superb. The vocalists and chorus well-trained; costumes and sets, elaborate. There was a large cast and the orchestra pit was full of musicians.

As a final dramatic touch to a memorable evening, they even brought a horse out on stage.But there was one single shocking aspect to the evening that has haunted me ever since - the audience was so sparse that the performers outnumbered them. Fewer than 50 people filled the opulent hall. It was so disappointing. It was a trend I would witness on every return trip to Azerbaijan. With rare exceptions, the performance halls are nearly empty these days. And that's why we've chosen to explore the topic, "Crisis in the Arts" for this issue.

The problem directly relates to the economic situation. Azerbaijan is in a transition between an economy monopolized by the state and one driven by consumer needs, which is not yet in place. Add to this confusion, an unimaginable high rate of inflation and the encumbrances of a seven-year war which consumes more than 60% of the country's budget. Additionally, never to be forgotten are the million refugees that have been pushed out of their homes, communities and jobs by the Armenian land grab that has taken more than 20% of Azerbaijan's territory.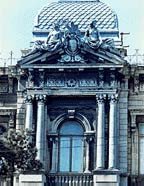 Photo: Azerbaijan National Fine Arts Museum in Baku.

Salaries are shockingly low in government-sponsored arts positions. According to musicologist Jahangir Salimkhanov, musicians' salaries are a mere $3 to $4 a month and music is revered as the "Art of the Arts" in Azerbaijan. "It's so low, it's like getting no salary at all." Consequently, musicians are forced to take on second, third and fourth jobs.

Sometimes they find work related to music, sometimes not. It's a question of survival. Of course, many of the most talented are exiting to Turkey, because of its proximity and similarity in culture and language. Some insist that by leaving, Azerbaijani music will continue to live and spread even wider. But it remains to be seen if the artists will ever return. Much will be depend on how long this economic transition takes and whether cash from selling off oil reserves will start to flow fast enough.

The Arts is such a vast subject in Azerbaijan that it's possible only to introduce the subject here and briefly raise some of the major issues. Our efforts are "merely a drop in the ocean". We've asked a few of the most well-known painters and musicians to compare their own personal experiences during the Soviet period with what they are experiencing now. Together their observations comprise a mosaic that we believe symbolizes the issues that thousands of Artists are experiencing in music, sculpture, painting, theater, cinema, carpet-making, and various applied arts.

To understand this crisis, it's important to see Arts in the context of the Soviet period. Education was given such high priority. Regardless of how it was used for propaganda purposes, the result was that millions received very high training in sciences, math, and the Arts. Evidence of this incredible legacy is everywhere. Per capita the concentration of musicians and artists in Azerbaijan, for example, is far above the international norm.

Baku, for example, currently has 32 music schools for children alone. Officially, 36,000 children are currently engaged in learning music. Half of them study piano. To be well educated means to be able to perform music. Pianos are everywhere. Azerbaijanis themselves estimate that possibly 90% of their homes have pianos. That may be an exaggeration, but probably not by much. Pianos were, and in some cases, still are, part of the marriage dowry.

From a Westerner's point of view, pianos are found in the most unlikely of places. They're in government offices starting with the President's Aparat (Palace), the Ministry of Foreign Affairs, and Internal Affairs. The Minister of Culture has two grand pianos in his lush octagonal-shaped, mahogany-paneled office, which is far more ornate than the President's office. You'll find pianos in museums, nearly every restaurant, club and café and even in the cinema houses.

One other aspect of the Soviet legacy is the catharsis and emotional stability which music has provided the population during this difficult period. Experienced international relief workers often marvel that the crime rate is still relatively low in Azerbaijan, given the immense refugee problem. Nearly one person in every seven has been pushed out of home, community - the traditional psychological and economical base.

There are stories of how refugees fled for their lives and carried nothing but their musical instruments. No doubt, the creative process has sustained them spiritually. Armenians have amusedly observed that Azerbaijanis are so much involved with mugham that they don't make good fighters.

Some Azerbaijanis credit another reason why music is so deeply rooted and high developed - the nature of their folk music - especially mugham. During the Soviet period, thanks to the brilliant foresight of musicians such as Hajibeyov, such instruments and traditional forms were not lost, but rather incorporated into Western forms of opera, orchestra, and symphony.

Philharmonic Director, Rafig Seyidzade, believes this is why Azerbaijanis can excel so well in performing Western music. "Our children are exposed to mugham from the cradle and it serves as a basis for future talents. Mugham is a very delicate, fragile, and complex music with many nuances that it enables us to attain everything else."

Are the Arts dying in Azerbaijan? Fortunately, their deep roots make it impossible. Are the Arts in trouble? Unfortunately, and sadly, yes. A few patrons of the arts are beginning to emerge now that the government is not able to assist as it had in the past. Such philanthropy was characteristic of Azerbaijanis, especially among the Oil Barons prior to the Bolsheviks.

What is needed now is a way to bridge this transitional period until Azerbaijanis themselves can again support their own arts and until government leaders can determine what role is best to support the Arts. Curiously, even in the United States a strange debate is going on these days concerning the sponsorship of the Arts. Billions of dollars of tax payers' money is spent on so many projects, but U.S. decision makers are very frugal when it comes to the Arts and, consequently, they suffer immensely.

For Azerbaijan, this is a critical period. It may sound exaggerated when Nigar Aleskerov, Director of Baku's most prestigious Music School for children (Bulbul) admits that they haven't bought a single sheet of music in the past six years or that Tofig Guliyev, Azerbaijan's classic composer complains that the Composers' Union can't get musical staff paper.

Or that Gaiyur Yunus, one of the most prolific artists, can't get paints or canvases. These complaints are representative of the kinds of needs that are evident throughout the Arts. We hope our magazine can serve as a catalyst to bring some of the issues to the consciousness of international community especially those who care and are willing to do something to foster its growth during this difficult interim.


From Azerbaijan International (3.1) Spring 1995.
© Azerbaijan International 1995. All rights reserved.
Back to Index AI 3.1 (Spring 1995)
AI Home Page | Magazine Choice | Topics | Store | Contact us