Spring 1995 (3.1)
Page 52
Diplomatic Interview
Egyptian Ambassador
Faruk M. el Hawary
Interview by Svetlana Turyalay
Translated from Russian by Jamal Pashayev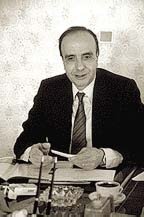 Left: Egypt is built on an ancient civilization. Azerbaijan, too, has roots that go deep into the past. Are there historical ties which link the two countries?
Both Egypt and Azerbaijan have had relations that extend back many centuries but since the last century they have developed closer contacts. Egyptians and Azerbaijanis have much in common-traditions, culture, customs, attitudes and religion. Since Azerbaijan has gained their independence in 1991, even during this short period of time, we have already started building relations in political, economic, cultural and educational spheres.

Azerbaijan is a Turkic state and Turks had a strong influence on the Arabic countries during the 19th century. Although Egypt was within the Ottoman Empire, it somehow was fairly independent and relations between the Turkish Sultan and Egyptian governors were friendly. Egypt favored the strengthening of the military power of the parent state. The Egyptian army occupied Sudan, Ethiopia and reached Greece.
What about relations today?
Azerbaijan's President, Heydar Aliyev, is known to have warm and friendly relations with our President, Husni Mubarak. In fact they are quite close. This past year alone (1994) President Aliyev met Mubarak on two separate occasions, First in September during the UN Population Conference in Cairo and then again in December in Casablanca (Morocco) when the heads of the states of the Islamic Conference Organization met. At these meetings, they discussed a wide range of problems: bilateral relations, resolution of Azerbaijan's conflict with Armenia, Azerbaijan's relations with the Arabic world, etc. Both Presidents have extended invitations for official visits.

During the Summit of the Islamic Conference in Casablanca, two resolutions were adopted which were very important for Azerbaijan: (1) "About the Conflict between Armenia and Azerbaijan" and (2) "About the Necessity of Rendering Humanitarian Aid to Azerbaijan". Egypt signed both of these resolutions along with the other member states.

Egypt condemns any kind of occupation of territory by military force. When the Foreign Ministers of the member states of the Islamic Conference Organization met in July 1993 in Karachi (Pakistan), it was Egypt that initiated the adoption of a statement condemning the annexation of Azerbaijan territory by Armenian forces.
But aren't there a great number of Armenians living in Egypt? Doesn't the Egyptian government's position affect the Armenians living there?
There is a significant Armenian Diaspora living in Egypt but many of them are now leaving Egypt. Their leaving is not connected to the Karabakh problem. It is interesting that Armenians have not left for the Republic of Armenia but for other countries, especially the United States and Australia. Most of them are involved with business and are not very concerned with politics.
Both Turkey and Iran are widely represented in businesses in Azerbaijan. What about Egypt?
Iran has a great advantage because they share a border so trade has been widely developed. Turkey is not far away either. But trade, of course, doesn't absolutely depend on proximity. Egypt had good economic relations with Soviet Azerbaijan and we're not new to this country. For example, the well-known Egyptian company, Abolkheir Group, has had contacts since the Soviet period. At present, they are engaged in the restoration of the National Theatre in Baku and also in the process of conducting talks with the Azerbaijani government about new contracts.
What attracts Egyptians about Azerbaijan?
Azerbaijan is expected to become a country with a well-developed market economy. However, it is passing through a very difficult transition period. The sooner this period passes, the better for everyone. If it succeeds, it's likely to become more advanced than many of the other Republics of the Soviet Union. For that reason, Egypt is very interested to cooperate with Azerbaijan especially in the spheres of agriculture, tourism and trade. After the war is resolved Egyptian businessmen are likely to become very active in investing here.
What about educational and cultural exchanges?
More than 30 students are studying in Egypt now on grants from the Al-Azhar University in Cairo. If this experiment is successful, we'll offer more scholarships. There are also four Egyptian teachers currently teaching Azerbaijani children here. We're prepared to send 30-50 more teachers to Azerbaijan as the young generation is interested in learning Arabic not only because of Islam but also because the Arabic script was Azerbaijan's official alphabet up until the late 1920s.

Translation from Russian by Jala Garibova.

From Azerbaijan International (3.1) Spring 1995.
© Azerbaijan International 1995. All rights reserved.
Back to Index AI 3.1 (Spring 1995)
AI Home | Magazine Choice | Topics | Store | Contact us