Spring 1995 (3.1)
Pages 46-47, 49
BulBul School of Music
"And the Beat Goes On"

by Dr. Nigar Asgarova, Director Bulbul school, Askerova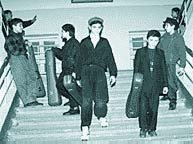 Left: Students at Bulbul Music School take concentrated courses in music. Nearly 700 students are currently enrolled and taught by 250 teachers. Students compete to enroll at age seven.
The Bulbul School of Music is Baku's most prestigious institution for primary and high school music education. In the Azerbaijani language, "Bulbul" (nightingale) is considered to be the most expressive of all songbirds.

One of the highest compliments is to be told, "You have the voice of a nightingale!" To criticize the Soviet period is fashionable these days. But when it comes to music, it's only fair to acknowledge the great achievements that occurred during the past 70 years. In Azerbaijan, the most significant contribution was the synthesis of our Eastern musical traditions with Western classical traditions. This came about by the very deliberate and calculated efforts of the musical genius, Uzeyir Hajibeyov.

There was considerable pressure in the early 1920s and 1930s to embrace Western musical instruments, forms, styles and traditions but Hajibeyov and others resisted. Rather than abandoning our traditional folk instruments especially the tar, balaban, kamanche and zurna, he incorporated them along with our traditional styles like "mugam" and "ashig" into Western symphonic and operatic music. And so our traditional music has not been lost; it has simply taken on a new form.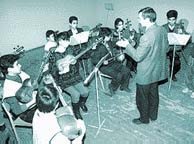 Left: Instruction on traditional instruments: tar (held horizontally) and kamanche (vertically). Curriculum incorporates both European and traditional instruments. All photos: Oleg Litvin.
We had difficulties during the Soviet period and we have difficulties today. To lead any institute or enterprise is very difficult these days. On which Ministry's door can we knock for help? We're in the midst of war and there are many refugees and our country. Economic burdens are strangling us.

Under such conditions, you might think no one would be interested in music, and that a cloud of pessimism would have settled over our entire population. But Azerbaijani people are passionate lovers of music.
Entrance Exams at Age Six
Children are still admitted into our program as they always have been-via a competitive entrance exam. Six year-old applicants are judged on their memory ability, listening skills and rhythm. Older students can enter if they have won any of the first three prizes in a music competition.

The list of world-famous performers who have studied at Bulbul School is incredibly impressive. It has been the cradle of our finest performers, composers, singers, conductors, and many participants and winners in national and international competitions. About 70%-80% of those who graduate from our school go on to enter the Music Academy, the most prestigious higher education music institute in our country.

New Changes to the Curriculum
When a country gains its independence, it has to organize new structures and reform its educational system while preserving its past. Azerbaijan has a vast treasury of its own music.

Unfortunately, during the long years of Soviet ideology, very little attention was paid to teaching the basics of national music and the works of Azerbaijani composers-many of whom are world class. We are translating the school curricula from Russian into the Azerbaijani language and have included the best works of Azerbaijan composers along with Russian and international musicians.

Approximately 60% of the curriculum is devoted to general subjects and the remaining 40% to music. Currently, 691 students are enrolled and our staff numbers about 250 many of whom give private music lessons. Forty-two of our classrooms have pianos, many of them are "royal" (grand). The music curriculum is divided into seven sections: piano, string instruments, wind instruments, Azerbaijani folk instruments, music theory, choir and vocal conducting, and composition.

In spite of the many difficulties, our school hasn't give up its tradition of succeeding in national competitions. During the last two years, about 50 of our pupils have taken prizes in various national contests.

The Down Side
But there's another side of the story, too. Our school is passing through an incredibly difficult economic readjustment since the dissolution of the Soviet Union, which has been complicated by the seven-year war with Armenians. As a result, music suffers, just like everything else. For example, this old building hasn't had thorough repairs for the past 25 years. It's gradually disintegrating right in front of our eyes. In rainy and snowy weather, the roof leaks like a shower.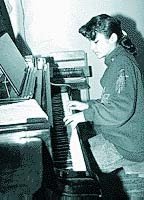 The expensive grand pianos are becoming worthless because of dampness. Plaster is falling off the ceiling in many places, making it dangerous for children to be in classrooms and hallways. The school has never had modern furniture before; but now there aren't enough chairs and tables for study. The string instruments section is on the verge of closing because it's impossible to find instruments or strings for them. It's impossible to tune the pianos; we don't have materials to repair them.

And the list goes on. The heating system has broken down. Temperatures are often down to a chilly 11°-13°C. Pupils and teachers sit in the damp, cold rooms, shivering in their coats, scarves, and hats. Some rooms have a tiny electric heater but it's really impossible to heat large rooms in such a way. Lots of children get sick. In a classroom of 20 students, sometimes five to eight or more students may be absent during the winter months.

In spite of these incredible obstacles, the inspiring sounds of music still fill our rooms and hallways. These talented and devoted music pupils deserve the chance to work in warm, comfortable classrooms with modern equipment. We dream of the day when we'll be able to provide our children-the future creators and preservers of our music culture-with the musical setting they deserve.

Nigar Askerova is Director of Baku's esteemed Bulbul School of Music. She holds the Candidate of Philosophy degree (Ph.D.) and is a member of Azerbaijan's Composers Union. Translation assistance from J. Kagramanova.

Bulbul Music School Needs List
Azerbaijan International staff visited Bulbul School, and after seeing the commitment of students and faculty to music, we asked them to provide us with a "Needs List" knowing that some of our readers as music lovers and educators would want to share in the furtherance of musical training for Azerbaijani youth. Here's what they told us:

International Competitions
Staff and students would be thrilled to receive an invitation from any country to participate in music competitions. We also would be interested in developing an exchange program with specialized secondary music schools. Unfortunately, we cannot at present afford travel expenses either as host or guest. Nor can we afford living expenses in a foreign country, but we would gladly open our homes to receive guests in Baku for a reciprocal opportunity ourselves. If some of our best pupils and teachers had the chance to perform in another country, it would be a great honor.

Music Books
We have not been able to buy a single sheet of music for the last six years. Our curricula is organized so that we need 15-20 copies of each title:

1. Bach: Well-Tempered Clavier "High Mass" (edited by Herausgegeben von Bruno Mugellini).
2. Scarlatti: Sonatas for Piano, Books 1 and 2.


3. Haydn: Sonatas 1 and 2; Symphonies 103, 104 ; also "Farewell".


4. Mozart: Sonatas 1 and 2; Symphonies 40, 41; "Marriage of Figaro"; "Don Giovanni"; "Requiem".


5. Beethoven: Symphonies 3, 5, 6 and 9; "Egmont Overture".


6. Chopin: Preludes; Etudes; Mazurkas; Polonaises; Waltzes; Nocturnes; Impromptus; Ballades and Sonatas.


7. Franz Liszt: Concerto Etudes; Les Preludes; "Annees de Pelerinage" (Years of Wandering).


8. Verdi: "La Traviata".


9. Gounod: "Faust".


10. Wagner: "Lohengrin".


11. Debussy: "Douze Etudes".


12. Tchaikovsky: Symphonies 4, 5, 6; "Romeo and Juliet".


13. Prokofiev: Symphonies 1, 5, 7; "War and Peace".


14. Czerny: Hermer Etudes; Etudes Opus 299 and 740.


15. Moszkowski: Etudes Opus 76; and Concert Studies.

Equipment
We need 30 music stands and 30 chairs for our orchestra class. We have no computer or copy machine for our office.

Instruments

Our orchestra section is nearly having to close down because of lack of instruments. We desperately need the following:

1. Violins and cellos and accompanying bows, strings; bridges, frets and wax


2. Oboes, bassoons, clarinets, (plus reeds)


3. Flutes, trumpets, trombone, tuba, xylophone,


4. All kinds of spare parts for pianos and grand pianos including keys, hammers and strings.


For further information, contact Director of Bulbul School, Mrs. Nigar Askarova. Tel: (Code 99412 or 78922 for Baku) 92-61-69 or 32-78-19; or our Publications Office in Los Angeles (Fax: 818-997-7337) or Baku (Fax: 95-13-91).
From Azerbaijan International (3.1) Spring 1995.
© Azerbaijan International 1995. All rights reserved.

Back to Index AI 3.1 (Spring 1995)
AI Home | Magazine Choice | Topics | Store | Contact us