Spring 1994 (2.1)
Pages 6-9
Baku Diary
Wedding at a Refugee Camp
Life Goes on Despite the War
by Susan Cornnell
It may seem hard to believe, but I had lived here in Azerbaijan for more than a year without really knowing the extent of human suffering this war is causing. It wasn't until October that I got the chance to visit Imishli, a camp organized by the Iranians housing about 20,000 refugees. Little did I know what was in store for me that day.

On the three-hour drive southwest from Baku, four of us--another American and two Azerbaijani translators-jolted along, listening to Gloria Estefan and sharing our expectations.

Refugees at Imishli, October 93.
"For sure," I said, "we'll ask about marriages in the camp." Someone else thought there would be little chance for weddings as marriages were generally arranged in the rural areas of Azerbaijan and under such dismal circumstances surely would be postponed.

We speculated on what the physical conditions would be like-how we would be received, whether the Iranian government would impede our curiosity and movements, and whether they would require press credentials.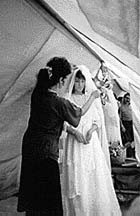 Left: Putting final touches on wedding dress and veil inside the small refugee camp
that would become home for the couple.

We lurched past rusty oil wells, modern oil drilling platforms, dusty mountains, and village bazaars, often sharing the road with herds of sheep urged along by young boys on burros.

Finally, we saw the camp off to the right of the road-hundreds and hundreds of orderly tents with Red Crescents stamped on them. First, we drove around the circumference of the camp to form some impressions. Here and there some of the more enterprising individuals had figured out how to hook wires to the lamp posts and draw electricity into their own tents. Surprisingly, there were occasional TV antennas poking up above a few of the tents.
I had expected to see hundreds of people milling about-but everything was relatively quiet, that is, until we unraveled ourselves from the car. First, a few curious kids gathered around, then women, and men. Soon we were knit into a circle of dark faces, gold teeth, and bright scarves.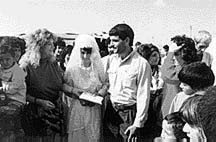 Left: Susan Cornnell (left) congratulates the bride, Gulnara and her husband, Tashkilat, on their wedding at Imishli Refugee Camp. (October 17, 1993)

A young woman began to tell of her flight from Fizuli, a city in the southwest of Azerbaijan which had been attacked and occupied by Armenian forces a few months earlier. An old woman with sun-baked face, dirt etched in the wrinkles, began crying, "Why doesn't President Clinton help us? Can you help us? Will you record our stories and tell the American President what you're seeing here?" That was our signal. We grabbed our tape records, split into two teams and started listening.

AFILIA
Afilia, 24, from a family of nine, fled Fizuli as homes burned and missiles exploded around them. The cars in which they were escaping were stopped by bandits, who were drunk, and they lost everything they had desperately piled into them.

Her words spilled out. They had arrived at this camp and her brother had applied to the authorities for tents-nine people housed in three tents. Her father had had two heart attacks-one before arriving at the camp and another there.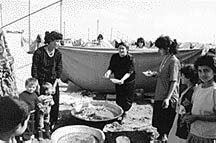 Left: Preparing the Wedding Banquet - lamb and potatoes - at Imishli Refugee Camp. October 1993.
She had been a cashier in her village; now she had no work and no salary. The camp was organized so that one person collected supplies for every 15 people; Afilia had been chosen from her group. Each tent had been given 2 kilos sugar, 1.5 kilos butter, 4 kilos rice, 1 kilo of oil and tea and 70 kilos of potatoes. Everyday they received bread. So far, no fruits or vegetables.
ZAHID
Zahid had been an English teacher in high school. He trembled as he spoke - his face twitching from the trauma he had been through. He couldn't manage to speak of the terrors that he had seen in Fizuli. I tried to calm him. He had five children. "I don't work now nor does my wife," he told me. Suddenly, while he was talking, we were interrupted as someone had discovered a snake nearby one of the tents. Zahid was trying to obtain a tent but supplies had run out because there were so many people. "Help me," he implored.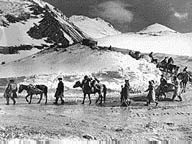 Left: Refugees fleeing Kalbajar, April 1993.
GULZADA
Gulzada, a young mom lugging a wide-eyed baby on her hip, spoke next. She was concerned about the special needs of women. "They attacked us with tanks on three sides-10 to 12 tanks. Young girls threw themselves into the lake to avoid being taken hostage and raped." There are 17 in her family-15 here, two away at war. Her family arrived two months ago on foot with the children. No one had helped them. She knew of nine or ten Azerbaijanis who were being held hostage in Armenia.
Suddenly we heard music faintly in the distance. "What's that?" we asked. "A wedding!" came the reply. I couldn't believe it-a wedding! The group of about 60 that had gathered round flowed towards the wedding tent which was really several tents patched together.

A banquet was about to begin. I had some red balloons and as red is the color of Azerbaijan weddings, I give them to the children to blow up and hang from the rafters. These were the balloons I had ordered in Baltimore more than two years earlier when I was making plans to come to Azerbaijan. I had known so little about the country at that time that I had had the balloons imprinted, "To Russia With Love." Oh well...they looked bright and added a touch of festivity.

The bride was 18, her name, Gulnara; her husband's, Tashkila. She wore a beautiful, white, lacy, full length wedding gown that she had borrowed from someone in her village.

We, the foreign guests were ushered into the "banquet tent" to sit at the table of honor. It was hard to believe how well they had managed to prepare everything under such conditions. The tables were beautifully laden with fresh greens, plates of thick cut potatoes and plates of thinly sliced onions sprinkled with pomegranate seeds. Someone had found lamb-so there was fresh meat. Iced fruit beverages (how did they ever manage that?), and, of course, vodka, in tiny shot glasses. Bread-both the paper-thin lavash, and the circular loafs, chorek. Every detail had been thought out-there were even paper napkins, ample knives and forks, and bowls of fruit.

How did they pull off such a luxurious event? Anyone who's lived in Azerbaijan for more than a few weeks knows the generous hearts of the Azerbaijani people made this moment in this young girl's life so special even in the midst of a refugee camp. Many had contributed something from their nothingness to honor her.

A small band was playing-nagarah (large drum), garman (accordion), and gosha nagarah (smaller drums). The guests began dancing. Bills were thrown into the air as is the Azerbaijan custom (the money would pay the musicians).

We talked with the village sage (the "white-bearded one, "agh saggal" as he's called. We wondered how this wedding would have been different in the village. "First of all," he told us, "400-500 guests would have been invited instead of 40 or 50. There would have been an eight-member band, not three. The celebration would have stretched over three days, not just one. And, of course, the food couldn't be compared-either in quality or quantity. On the third day of the wedding, traditionally, the couple would have taken a trip to the nearby city to shop and make formal wedding pictures.

But none of this would happen now. Fizuli, their native city, was occupied by Armenians. There would be no wedding pictures except those we managed to take as no one even had a camera.
"Why did you go ahead with wedding plans under such miserable conditions?" we wondered. "We wanted to show that life goes on-that we uphold our great customs and traditions. Armenians can't stop us. Besides, it's bad luck to delay a wedding-once, you set the date, you should never postpone it. Gulnara and Tashkila wanted to be together during these hard times; they've known each other a long time."

He went on to tell us that this was the first wedding in Imishli. "We wanted to set a precedent. Two days from now-next Tuesday, there'll be another wedding,"

Outside in the open-air "kitchen", large fires were burning under the biggest pans I've ever seen (maybe 3 feet in diameter) where lamb and potatoes bubbled away.

We returned to the car and drove up over another ridge to the medical clinic that all the refugees had been talking about-a huge, modern, clean white tent which lent an air of security to the camp. The doctors welcomed us-one was an Azerbaijani refugee, himself; the other, a young Iranian doctor who had just completed his training in Italy. A photo of Ayatollah Khomeini and Iranian President Rafsanjani hung on the wall.

The clinic had 10 beds and was staffed by 4 doctors and 23 staff. They typically treated more than 300 refugees a day for medical conditions ranging from skin disorders to chronic wounds and heart conditions. So far, no one had died.

Down at the far end of the tent, the last bed was occupied by a young boy, 4, being fed intravenously. I was captivated by the scene. The father was standing nearby, wearing the only suit he now owned. His wife sat, with bowed head, holding her son's hand. The boy, in jeans and sweater, was engulfed in the bedding, his little face and feet sticking out above the covers.

Despite the chatter around me-tape recorders whirring, simultaneous translations of several languages. I tuned these out. Time had stopped as I watched this family. At the foot of the bed, there was a tiny pair of sneakers-little red and white sneakers, neatly placed side-by-side, with laces carefully tucked in.

The reality of the situation overpowered me-it wasn't the stories of horror, the notes of tanks, suicides and hostages recorded so matter-of-factly, the number of kilos of potatoes, lack of sanitary facilities and medicines. To me, it was the scene of the little boy that crystallized the reality of the refugee situation.

People's lives have been yanked out by their roots. A family that one day was brewing tea in the comfort of their home, had to flee for their lives the next. Every memory, every treasure that they had held dear had been left behind. A family-a father, a mother, a son-taken from their understandable, defined world and shoved into a world of chaos and uncertainty.

These are the people of Azerbaijan and the world needs to learn about it. This is life here. An unreal, fearful time surrounded by uncertainty and death-a time when families are separated, stripped of identity.

We returned to the car. Someone commented about how unreal it was for us to return to our comfortable life and I replied that we had never left it. The back seat of our car was loaded up with more things than these people now owned. Despite everything that we had seen, we really had no concept of what it was really like; we simply couldn't comprehend it. I sat silent, praying that I could imprint those impressions forever in my memory-not just on a cassette tape, a floppy disk, a roll of film, but deeply in my heart.

I wondered what it really meant to have one dress that you couldn't even wash because you had nothing else to wear while it dried; what it meant to have to beg for a place to live-to implore the authorities to give you a tent so your five children wouldn't have to sleep out under the cold open sky; what it meant to recount tales of horror so matter-of-factly for some foreign journalist who came unannounced to your "home" and asked you to tell your story.

November 4. I returned to Imishli to see Gulnara, Tashkila, and Afilia. What had just two weeks earlier been such an oasis of a camp, so well run, so orderly and neat had turned into hell on earth.

The rains had come. The refugees were up to their ankles in mud. The camp was swarming with people as 300-400 refugees were arriving every day from Zangelan, the result of a new Armenian offensive.

Sixty thousand more people had been expelled from their homes. Reportedly, tens of thousands had crossed the Araz River into Iran, and scores had drowned in the icy cold waters. The camp was in turmoil; the people, frightened. What little they owned was now a mud-soaked quagmire.

We met up with Hadi Rajabov, Minister of Refugees for Azerbaijan and Kaiser Zaman, head of UNHCR. The crowds swarmed around us; the men were aggressive. "What are you doing for us? What are you doing here?" they questioned. "Can't you see our lives are destroyed." Despair was everywhere.

Back in Baku two weeks later, a fierce wind and rain storm hit and I woke up in the dark early chill of the morning, ready to complain that the electricity had been off for hours and that my bedroom was ice cold.

Then I remembered Sara Imanova, a grandmother, who didn't know where her grandchildren were, whether they were even alive and her words haunted me, "I was given one blanket. We are eight." I lay there under my two thick comforters clad in flannel pajamas and thick wool socks and I understood that whatever it takes, people must be mobilized to save these people.

It's bitter winter now in Azerbaijan. Temperatures where the refugees are living average between -10° to +5°C. Hundreds of thousands of people are living in canvas tents, without a concrete foundation, without plastic sheeting to protect them from rain and snow, without sufficient blankets, without shoes. The mud that sloshed around their tents has hardened into icy mounds.

Sanitation is abominable. For most, there's only a squat hole in the ground surrounded by an improvised shelter of reeds, or, at best, a toilet provided by some international relief agency. There's no such thing as toilet paper, of course, and facilities for washing your hands are rarely close by. Forget the soap and towels. In the large camps, invariably, there are always long lines, making it a nightmare in the middle of the night when it's raining or snowing, when your child is sick with diarrhea, or if you're a woman coping with your period. Shower facilities in most places are non-existent.

A few cases of contagious diseases have broken out-diphtheria, and hepatitis, though so far they've been contained. Doctors, working with the refugees, say the risk of colds, flu, and pneumonia in such camps is very high; they expect nearly everyone to get sick especially since the refugees are already so weakened by hunger and stress.

As you read this in the comfort of your homes or offices, the situation is worsening and will only continue to deteriorate until there is peace in the region. I can say first hand the situation is extremely critical. These people will not make it through the winter unless an incredible amount of emergency aid is provided-and not in the spring or summer, but now.

From Azerbaijan International (2.1) Spring 1994.
© Azerbaijan International 1994. All rights reserved.
Back to Index AI 2.1 (Spring 1994)
AI Home Page| Baku Diary| Features